The 2020 Christmas season: everything you need to know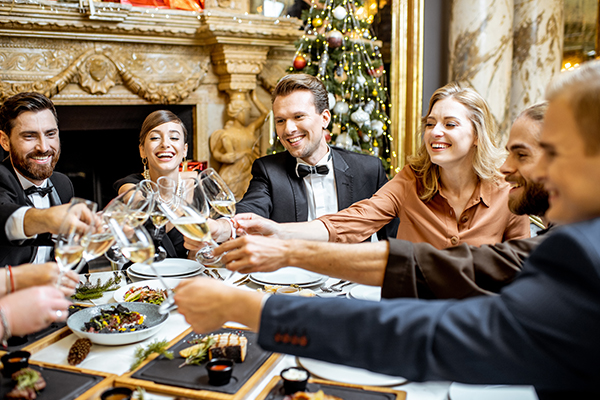 As preparations begin for Black Friday and Christmas, the same questions are on the minds of every hotelier and restaurateur. Will Christmas events be able to go ahead this year? If they do, what will they look like? Will we still be able to sell significant numbers of tables and rooms? And how will all this impact on revenue?
The truth is, nobody knows just yet and the goal posts are still moving.
Thankfully, one thing that we can be certain of is that people will continue to give Christmas presents and this year gift vouchers may prove even more popular than ever.
The fact that customers can buy 24/7 from your website, with instant email delivery means that vouchers have the edge in the current climate. Since 50% of annual voucher sales are also made in November and December, Christmas is an opportunity not to be missed.
Here's what you need to know about the upcoming Christmas season, and how gift vouchers can help to see you through.
Christmas demand will begin earlier this year
If your seasonal events are limited or postponed, promoting vouchers as gift ideas can help win back some revenue in the months before Christmas. You might want to start working on your offering now, as many predictions are expecting the Christmas shopping surge to begin as early as October this year. There are a number of reasons for this:
Amazon's Prime Day has become a well-known summer shopping occasion since it first launched back in 2015. This year, however, it has been pushed back to October due to the fulfilment challenges Amazon is facing. It will now fall only 50 days before Cyber Week, which could inspire shoppers to start their Christmas shopping early.
Also, in uncertain times, consumers are likely to purchase their Christmas gifts as soon as possible in case stores close again or further local lockdowns are imposed. Having dealt with delivery delays for the majority of this year, the public knows that gifts are more likely to arrive if they are bought in advance.
What can I do to accommodate this?
Prepare early. Be sure to include your gift vouchers in Christmas brochures, menus and prominently on your website. Add banners to your emails and mention vouchers in front desk displays for guests who visit your venue.
The current economic challenges faced by many mean that this year consumers will be on the hunt for bargains and discounts. Marketing your gift vouchers as Black Friday/Cyber Week/Christmas deals might catch their eye, and mentioning instantaneous email delivery could potentially seal the deal.
If you are thinking about selling discounted vouchers, One Tree's Special Offers system makes the process simple and creates an unbroken customer journey from digital promotion to sale.
Online delivery services will be under increased pressure
TOP TIP: In this period of uncertainty, focus increased energy on assuring your customers of instant voucher delivery.
Here's why this is a good idea:
Since lockdown began, the surge in e-commerce has greatly impacted delivery services and shipping capacity. Delayed packages are already the norm, and even giants like Amazon are leaving larger windows for expected delivery.
A survey conducted by Salesforce found that 'as recently as June 1st, 61% of consumers reported that they were shopping in brick and mortar stores less often than usual. At the same time, over 50% of consumers reported record levels of digital engagement, saying that they were browsing the internet, shopping and streaming content more than they normally would.'
There are few signs that online demand will reduce as the year goes on, and fear of a second wave of the virus means that consumers may be more cautious about leaving their homes in the colder months.
Salesforce predicts that 'parcels shipped by traditional delivery providers – such as FedEx, UPS and DHL – will exceed capacity by 5% across the globe between the week before Cyber Week and Boxing Day. That's potentially 700 million gifts that are at risk of not arriving in time for the holidays.'
How can I use this to my advantage?
In contest to this discouraging number, your business can offer gift vouchers with instantaneous email delivery.
Your customers want to be certain that any gifts they buy from you will reach recipients in time. With One Tree's email option, you can assure them that any gift vouchers they buy from your website will be delivered when needed. No delayed delivery times. No worries.
At a time when your business may see fewer in-house voucher buyers, this online reassurance could be the factor that drives up Q4 voucher sales.