Mother's Day: The benefits of an online gift voucher shop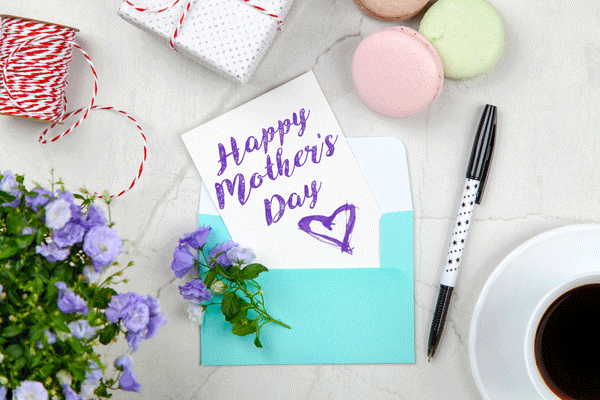 You may well be gearing up to deliver Mother's Day lunches, teas and/or spa treatments on March 19th, but have you thought about how your online gift voucher shop will increase the value of this annual celebration?
Do Brits give gifts on Mother's Day?
We certainly do! After Christmas, Mother's Day provides the biggest spike in gift voucher revenues. Overall retail spending on Mother's Day was estimated at £1.34 bn* for 2022. While this figure may be affected by the economic situation in 2023, there will still be a considerable amount of money invested in treating mums across the UK. It's therefore a key time to increase the promotion of your gift experiences and take a piece of that pie.
Mother's Day is the second biggest annual
gift voucher sales driver after Christmas.

Consolidated data from the One Tree Gift Voucher System**
Gift vouchers hit the sweet spot
For your business, gift vouchers are a way to generate further income when you have filled capacity on the day itself. Sales this March bring in immediate revenue and will translate into customers over the coming weeks and months.
While most mums are generally grateful for any gift from their offspring, a gift voucher really hits the sweet spot. It's a personalised gift that also creates a reason to spend family time together in the coming months. Even better, on average, the recipients of gift vouchers spend an extra 35% on top of the value of the gift when they come to redeem their voucher***.
But your unique and interesting gift experiences need to be out there in front of your prospects. Including gift vouchers in your March promotions will make sure that your business stays front of mind for this celebration. You'll then be in prime position to compete against the flowers, perfume and jewellery available from major retailers.
Easy ways to increase your voucher sales
Your online gift voucher shop is already set up on your website with an existing range of gifts, so there is no need to re-invent the wheel. It's time to promote the gifts that will appeal to mums.
For example:
Afternoon teas
Lunch packages
Spa days
Massages
Monetary vouchers
Naturally your gift ideas will vary depending on your business – and bear in mind that the average spend on a Mother's Day gift is around £75.
Who will you target?
Many adult children no longer live near their parents and a gift voucher for a hotel or restaurant they know their mum enjoys is the perfect way to send a gift that will be appreciated. Prospects who live close to your venue are also a good market to focus on.
Newsletter email marketing
Your email marketing list is one of the most valuable sources of prospects for your gift vouchers. Promoting your gift vouchers in regular emails will remind prospects that you offer this service.
Adding Mother's Day gift ideas as part of your March newsletter with a link straight to your online gift voucher shop will pay dividends.
Headlines could include:
Give a luxury gift for Mother's Day
Special gifts for special mums
Mother's Day gifts that show you care
Your website
Signpost your online gift voucher shop from other pages. If you are promoting a Mother's Day lunch or afternoon tea there is an opportunity to cross market. Add relevant links in the text or graphics linking to your gift voucher shop page.
Social media
Generate interest in your gift vouchers with social media posts and adverts up until the day itself. We recommend Thursday 16th March as the last day recommended day for postal orders. Emailed vouchers go out all the time, so a campaign spread across a two week buying period is ideal. You will catch both the early birds and those who leave everything to the last minute.
Note: Don't forget to add links to your gift voucher shop page!
In-house
Put up any promotional posters, table talkers or digital displays to include your Mother's Day gift vouchers.
How does One Tree help?
With the One Tree automated voucher system, customers buy directly from the shop on your website. The dispatch of your vouchers is taken care of too. Postal vouchers are sent out by our staff on the day of purchase (2 pm cut off, Monday to Friday) and email vouchers are sent within five minutes of the order, 24/7, every day of the year. With this in mind, you can spend your time focusing on promotions rather than selling, creating and sending out vouchers.
Looking for inspiration for your promotions? Check out our marketing ideas here.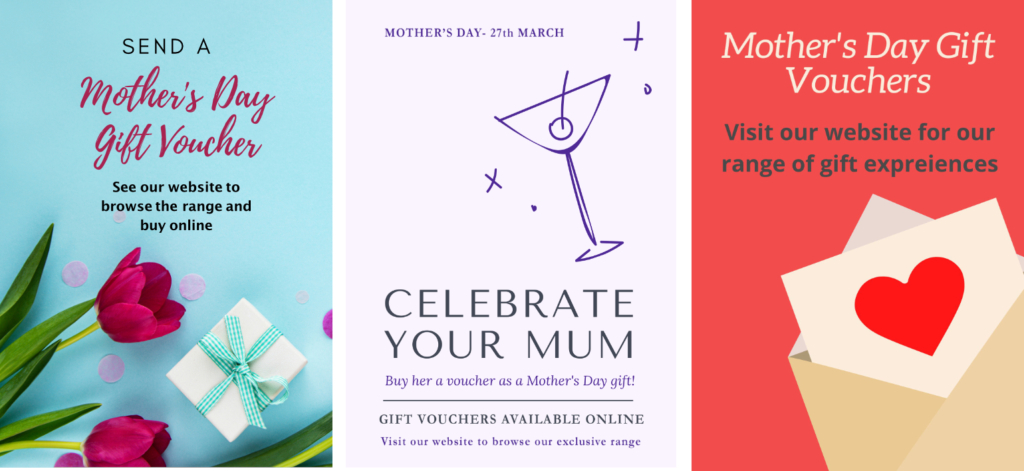 * Statista.com
** One Tree Gift Voucher System
*** Gift Card and Voucher Association