Issue a Complimentary Voucher
For Front Desk Users
To issue a complimentary voucher, start on the Home or Sales page:
Before you can issue a complimentary voucher, the voucher must first be set up in Manage Gifts.
Manage Gifts Page
To Issue the complimentary Voucher:
Click Manual order button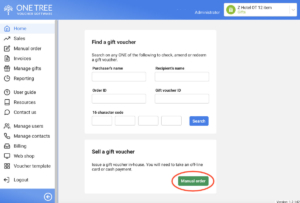 a) To print a voucher out without a message or name
Select the relevant complimentary voucher.
If you wish to issue a voucher without any personalisation, click Continue.
Add the purchaser's details if required for your records. (Not compulsory.)
Add a reference in the payment box.
Click 'Complete order' and download the voucher to print out.
b) To print the voucher out with a message
If you want to add the recipient's name, message and who the voucher is from, after adding the gift to the basket, click Edit, then Edit personalisation.
Complete the boxes. If the complimentary voucher is a prize, add Lucky Winner, Prize Winner, Raffle Winner (or similar) in the first and last name fields. Add a message and details of who the voucher is from. Check the display by clicking the Preview voucher button.
Choose delivery method:

Print, to print the voucher immediately or to save to your pc,
Email if you want the voucher to be emailed via One Tree,
Post if you would like One Tree to post the voucher out. (We will invoice postage and packing for this option.)

Follow the on-screen instructions
Add a reference in the payment box as per your company policy.
Click Complete order to generate the voucher.
The voucher will appear on the list on the sales page.