Issue a Complimentary Voucher
For Front Desk Users
To issue a complimentary voucher as a charity prize or as compensation, it must first be set up by an administrator as a 'complimentary' voucher in Manage gifts.
From the Home or Sales page:
Click Manual order button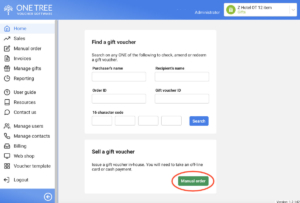 Select the relevant complimentary voucher
If you do not wish to add any detail to the voucher, choose Quick print at desk
To add a recipient and message, click Print at desk, Email or Post. (Print at Desk can be sent out as an attachment to an email from a business email address.
Complete the purchase screens. If the complimentary voucher is a prize, add Lucky Winner, Prize Winner, Raffle Winner (or similar) in the first and last name fields. Add a message and details of who the voucher is from
Follow the on-screen instructions
Add a reference in the payment box as per your company policy
Download the voucher (if Print at desk option chosen) and attach to an email for the recipient.